What is TECH TREK??
 TECH TREK NEW MEXICO
New Mexico Institute of Mining & Technology (NMT)
Socorro, New Mexico

---
Tech Trek NM is an exciting weeklong residential summer camp focused on Science, Technology, Engineering and Math (STEM) for current seventh grade girls which is sponsored by the American Association of University Women. In New Mexico, it is held on the campus of New Mexico Tech in Socorro.
Seventh-grade science and math teachers in schools across New Mexico are encouraged to nominate up to four students per school for the program.  Students who have attended Tech Trek-NM over the past four summers have testified how life-changing the experience was for them and the important role it has played in helping them set goals for the future.  (Information and nomination forms are available on the website http://techtrek-nm.aauw.net.)
After being nominated, students will complete an application and interview process. Up to 60 girls will be chosen to attend the camp, where they will gain first-hand knowledge of real world applications of STEM in a fun-filled, hands-on college environment. Final selection of campers for 2021 Tech Trek NM will be announced in April.
Because families only pay $50 toward the cost for each camper, donations are critical for the continuation and success of Tech Trek! Local community, corporate, individual and in-kind contributions are needed to make the camp a success.  Donations are tax deductible and can be made by credit card on the donation page of the website or by mailing checks to AAUW Tech Trek NM Donations, PO Box 251, Placitas, NM 87043, http://techtrek-nm.aauw.net.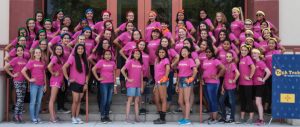 About Tech Trek
Tech Trek is a week long science, technology, engineering, and math (STEM) summer camp for rising eighth-grade girls. The camp is designed to develop girls' interest, excitement, and self-confidence in STEM fields.
AAUW of California member and program founder Marie Wolbach began Tech Trek in 1998 with an AAUW Community Action Grant. In the summer of 2011, Tech Trek was featured on CBS Evening News. AAUW National integrated the structure and camp design under the AAUW umbrella, creating a process for growing and expanding this very successful educational program. Four camps outside California were added in 2013, and during the summer of 2014, three more states and program were be added, including New Mexico!
AAUW Las Cruces members completed the application and grant proposal, connecting with NMSU to host the inaugural Tech Trek NM (TTNM) program. TTNM 2014 was held in July on the NMSU campus, and hosted 52 young women from 19 cities throughout the state. TTNM 2015 was held at NM Highlands University in Las Vegas, bringing in 50 young women. TTNM 2016 & 2017 was held at NM Tech in Socorro, and hosted 60 rising 8th grade girls.
Through Tech Trek, girls are immersed in a world that empowers and encourages them to think about themselves not just as young women but also as future scientists, engineers, mathematicians, and computer specialists.
When asked how Tech Trek affected her, one alumna said:
"This camp opened my eyes to see how important math and science are for me. … I met so many girls that also were very bright and share the same abilities … As of today I am majoring in civil engineering and plan to graduate next year in the spring at California State University, Fresno. Thank you! Tech Trek Camp made a difference in my life."
Camp Model
All campers are nominated by their seventh-grade math and science teachers. Campers then submit an application including an essay. The Tech Trek statewide committee works with dozens of volunteers throughout the state to interview every applicant, and read each essay multiple times. Families pay only a $50 fee to send their honored and selected young woman to the week-long camp, ensuring that girls from a range of backgrounds are able to attend.
Tech Trek attendees spend a week on a college campus, which helps the girls envision themselves pursuing higher education. The campers attend STEM core classes daily, as well as hands-on workshops, which are run by women STEM professionals. A daylong field trip provides girls with a chance to learn about amazing STEM sites in NM, which includes meeting female professionals and witnessing a STEM workplace environment.
Professional Women's Night
All Tech Trek camps include a Professional Women's Night where women STEM professionals from the community speak and interact with the girls about their educational and career paths. These women serve as role models and provide key insights into the successes and challenges of working in traditionally male-dominated fields.
FOR MORE INFORMATION: http://techtrek-nm.aauw.net
We hope you will support this outstanding STEM program that strives to empower young women throughout NM! Camps are designed to further enhance girls' interest, excitement, and self-confidence in STEM fields. To support Tech Trek NM, click here:  Give to Tech Trek.
---
Check out this Tech Trek New Mexico Summer 2017 video to see what happens at Tech Trek!