Want to know what you missed? Here's some of the fun things that happen in the Socorro AAUW this year!
---
April 2018
April 11, 2018
Socorro AAUW Presents: "Women's Student Debt Crisis in the United States" by Judy Prono
Location: New Mexico Bureau of Geology Room 253, 801 Leroy Place, Socorro, NM 87801 (Enter through the front of the building)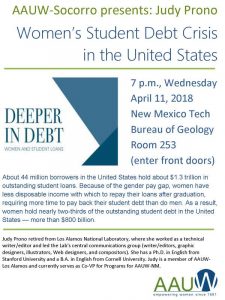 April 4, 2018
SOCORRO AAUW NEW MEXICO TECH SCHOLARSHIP APPLICATIONS DUE!
There are two $500 Scholarships available to eligible NMT students. See flyer for more details and how to submit your application.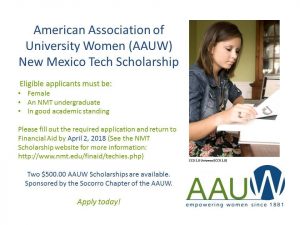 ---
March 2018
March 28, 2018
AAUW Start Smart Salary Workshop
Event Flyer: StartSmartFlyer
Location: New Mexico Bureau of Geology Room 253, 801 Leroy Place, Socorro, NM 87801 (Enter through the front of the building)
Description: Join us for a FREE AAUW Smart Start Salary Workship to learn how to negotiate for better salaries. All are welcome to attend!
MARCH 21, 2018,  NOON – 1 PM
AAUW Dress as Marie Curie!
Event Flyer: Marie Curie 3-21-18
Location: New Mexico Tech Fidel Center
Description: Celebrate Women's History month with us with a world record group photo (at 12:30 pm). Come dressed as your best Marie Curie!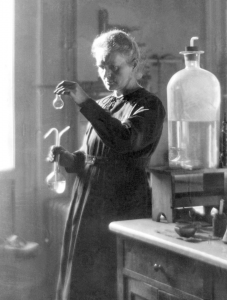 MARCH 8, 2018, 12:30 PM – ~5 PM
New Mexico Tech Celebrates Women! International Women's Day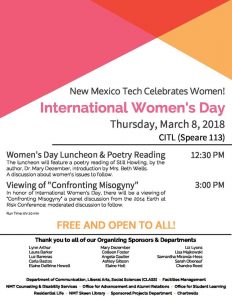 Location: New Mexico Tech, CITL (Center for Innovative Learning), Speare Building, Room 113
Description: Free and open to all!
Women's Day Luncheon & Poetry Reading – the luncheon will feature a poetry reading of Still Howling, by the author, Dr. Mary Dezember, with an introduction by Mrs. Beth Wells. A discussion about women's issues to follow.
Viewing of "Confronting Misogyny" – In honor of International Women's Day, there will be a viewing of "Confronting Misogyny," a panel discussion from the 2014 Earth at Risk Conference; moderated discussion to follow. (Run Time: 1 hr 20 minutes)
---
February 2018
FEBRUARY 23, 1 PM – 2 PM, Explora Museum (Albuquerque)
Why can't we say "Power"? Embracing Power for Ourselves & Our Girls by Melanie Bunten & Katrina Kerns
Come to a powerful talk by some female engineers from Intel. This presentation was selected for and presented to the Society of Women Engineers National Conference in October of 2017.
It is a compilation of research about women's relationship with power. An uneasy relationship with power suppresses a girl's innate confidence, drives underrepresentation in the STEM classroom, and detracts from professional achievement.
It is intended to give parents, mentors, educators, and professionals actionable strategies to overcome common barriers to a healthy relationship with power.
A healthy power relationship will help energize and motivate girls, keep all students engaged in STEM curricula, and highlight internal and external resistances to professional advancement.
FEBRUARY 22, 2018, 8 AM – 2 PM
Register voters @ NMT – Fidel Center
FEBRUARY 6, 2018, 7 PM
Socorro AAUW Presents: "WHY WILDERNESS? WHY HERE?" by Sandra Noll
Event Flyer: Sandra Noll Flyer Feb 6 2018
Location: New Mexico Bureau of Geology Room 253, 801 Leroy Place, Socorro, NM 87801 (Enter through the front of the building)
Description: Beginning with an overview of The Wilderness Act , this beautifully illustrated program introduces the biodiversity protected under the act, the concept of wilderness conservation, and opinions related to legislating wilderness – "Why Wilderness?" The second part of the program provides historical context for three wilderness units within Bosque del Apache NWR and takes the audience on a virtual tour of these areas – "Why Here?"