Want to know what you missed? Here's some of the fun things that happen in the Socorro AAUW this year!
---
2020 – A Year in Review
We started 2020 with an open house on Jan. 14th.at the NM GRADS (Graduation, Reality and Dual-role Skills) program office is in Socorro.  Jeanne Johnston, GRADS Executive Director of this non-profit accepted an award from AAUW Socorro Branch.  In attendance was Destiny Graham, a GRADS graduate, an AAUW scholarship recipient, and currently a graduate student in the NMT math department.  Our partnership with the Performing Arts Series continued the Jan 24th presentation "Cranes of the World, The Story and Preservation of Cranes," by local expert Sandra Noll.
The AAUW booth at the Feb. 4th Career Fair Smart featured information on the StartSmart and WorkSmart salary negotiation training programs.  The on-campus Spring and Fall StartSmart workshops were held as on-line events.
The Feb. 5th Trivia Night at the Bodega Burger company was a resounding success, with over 60 participants.  AAUW hosted a presentation of the Vagina Monologues on Feb. 15th.
In honor of Women's History month, local legend Skeeter Leard presented "Following the Light," an engaging presentation about her experiences as artist on March 10.
The first event for the new school year was a female-themed, on-line Trivia Night to celebrate Women's Equality Day on Aug. 26th.  The Trivia Night Taskforce skillfully executed a complicated Zoom event that required advance registration and involved assigning 11 teams to 'virtual' meetings rooms. Topics of the five rounds were Women's Rights, Women Scientists, Women in New Mexico, Women in Pop Culture, and Women on Stamps.  A total of 44 participated in the event. We harnessed the support generated by this event to re-establish the AAUW student group at NMT.  On Oct 1st and 2nd, we held a voter registration on the NMT campus.
In December, the newly established AAUW student group raised scholarship funds by selling candy sleighs and holiday greeting cards designed by students at Socorro High School.
We look forward to in-person events once it is safe.  In the meantime, fund-raising will be limited to mail and on-line campaigns.  In the planning stages is a female themed on-line Bingo fund raiser in March, in honor of Women's history month.
---
December 2020
NMT AAUW Student Club
Candy Sleigh & Christmas Card Scholarship Fundraisers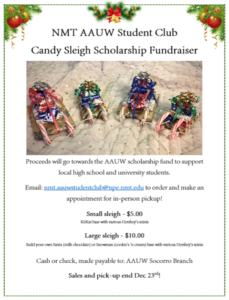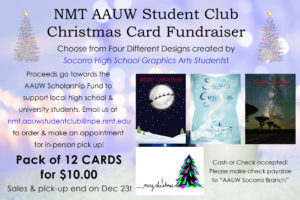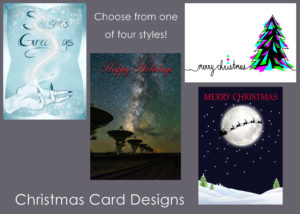 Click to enlarge the image to see the designs!
Help support our student group with their scholarship fundraisers!!
---
October 2020
October 1 & 2, 2020
Voter Registration Event!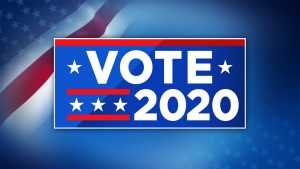 AAUW EVENT – REGISTER TO VOTE!
AAUW Socorro invites the New Mexico Tech campus community to visit us at a voter registration & information tent!
Outside of the Fidel Center (NMT Campus)
October 1 & 2, 2020
10:45 am – 2:00 pm
A voter registration agent will be available to help with registration and to answer questions about voting in NM. Some additional voting information can be found on our Home Page.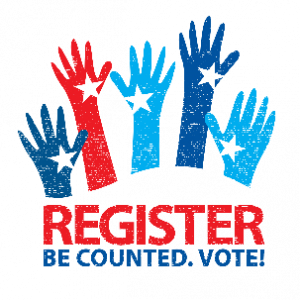 ---
August 2020
August 26, 2020
AAUW-Socorro Virtual Trivia Night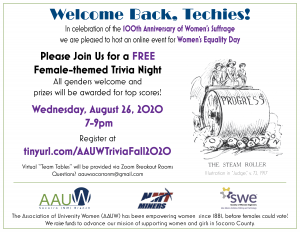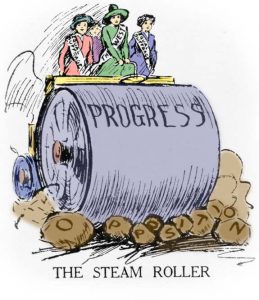 In celebration of the 100th Anniversary of the 19th Amendment giving women the right to vote in the United States (Aug. 18), we are pleased to host an online event for Women's Equality Day. Please join us for a free female-themed trivia night. All genders welcome. Prizes will be awarded for top scores!
Categories: Women's Rights, Women in Science, Women at NMT / New Mexico, Women in pop culture.
Virtual "Team Tables" will be provided via Zoom Breakout Rooms. Teams can have up to five members. We can host up to 45 teams, so go wild!
---
March 2020
March 10, 2020
Women's History Month Event: Following the Light – Skeeter Leard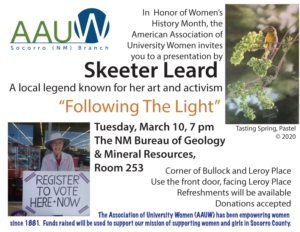 The final leadership and education/training event for the 2019/2020 academic year was a presentation by local activist and artist Skeeter Leard.
---
January 2020
January 24, 2020
Cranes of the World with Sandra Noll
January 14, 2020
GRADS Program: Helping Expectant and Parenting Teens: A Success Story